The Vemuram TSV808 is a sort of modified of a Tubescreamer/JanRay hybrid. It's also incredibly high end. Initially selling for $499, if you could get one in the limited release, and are now being listed on the used market for £1200-£1800 or more.
The internet has allowed me the chance to get to "meet" and speak to people all over the world. One of those is Ryan The Tone Geek. We often talk guitars, pedals, electronics and what ever dumb stuff that comes up.
One evening Ryan sent me a photo of a Vemuram TSV808, a multimeter and a ton of hand drawn documentation. After a bit of conversation I suggested bread boarding it to check the schematic. "I find that so borinnnggggg" came the reply, and after a few more messages back and forth, I had my own copies of the board layout and first pass hand drawn schematic.
My first task was to turn the hand drawn document into a digital one that is easier to maintain and share. I used KiCad for this, which took me an evening. Something about this project had grabbed me and I just had to do it. Whilst creating this schematic I checked values against both the photos of the board I got from Ryan, but also some found on google. As I was doing this my wife re-drew the board layout to be a bit more legible where some items had been squashed together.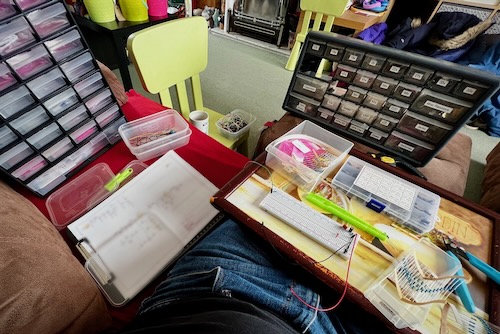 Read more…
---